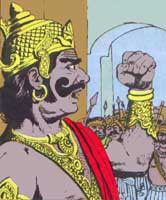 SHURAPADMA

Shurapadma's sister Ajamukhi declared that she would find out where Shachi was hiding, and started out with her brother's permission.

She found it out with her cleverness. Disguising herself as an angel, she talked to Shachi. She told her, "Come with me, we shall go to Shurapadma's palace. You will be happy there." But Shachi did not agree. Ajamukhi then threatened her.

Those who were guarding Shachidevi caught hold of Ajamukhi and cut off her hands.

She began to shout and roar in pain and anger, and ran to her brother.



Indra took Shachidevi to Kakachala and left her there in safety.



Shurapadma became sorrowful and angry at the fate of his sister. "I will teach a lesson to these gods. I will properly avenge your humiliation," he thundered. He rounded up the gods, beat them and imprisoned them. He then went to Shrikashi forest and searched for Indra and Shachi. They were nowhere to be seen. In a rage, he destroyed that forest.

Shiva, after his assurance to the gods, sent for Kartikeya and asked him to destroy the Rakshasas in order to protect Dharma (righteousness) in the world. In deference to the father's instruction, and also getting his mother's blessings, Kartikeya assembled the troops of the gods. Preparations were made to besiege the city of Veeramahendra.


VEERABAHU AND SHURAPADMA

Veerabahu, one of the heroes in Kartikeya's army, went to Shurapadma to persuade him to come to the path of virtue.

He defeated all the Rakshasas who obstructed him and entered the royal court of Shurapadma. "O Rakshasa king", he said, "Before Kartikeya, who has killed Taraka, your bravery will not be of any use. If you face him, he will certainly kill you. Therefore release all the gods. Do not indulge in injustice; do not cause cruelty to the world. Promise not to be unrighteous, and be obedient to Kartikeya."



Shurapadma was enraged. He sent a thousand of his wicked soldiers to kill Veerabahu.

But Veerabahu killed all those soldiers with his valor. Kartikeya then declared, "Tomorrow I will myself kill Shurapadma."



The night was over. Next morning Kartikeya marched leading the huge army of the gods for the encounter.

The army attacked Veeramahendra City. Shurapadma was seated in his court. A messenger rushed in and informed him that Kartikeya's army had laid siege to the city.


VEERABAHU AND BHANUKOPA

"Has a flock of sheep come to fall into the mouth of the roaring hungry lion? It's very good then. Come, March on for the war," said Shurapadma. All his brothers, sons and other Rakshasa heroes stood up. Each one uttered words of impressive valor, like, "An elephant is not needed to defeat dogs. I can crush all those gods."

Shurapadma gave them his consent, and they marched on the enemy.





Bhanukopa was in the lead. Shanmukha asked Veerabahu to engage him. It was a bitter battle.

Arrows with the mystic power of the 'mantras' were used. In the end

Veerabahu pierced Bhanukopa with a spear and killed him.

Thousands of Rakshasa heroes including Shurapadma's other sons and brothers also died.